LOL Challenge Submission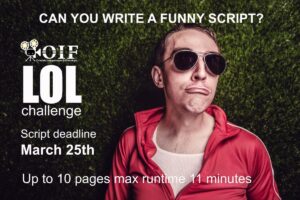 Here are the guidelines to enter your film for the OIF Challenge Screening.  These are in addition to the OIF General Film Submission Guidelines.  Entry submission to this Challenge is FREE.
Rules specific to this Film Challenge:
Total running time for all content, including credits, is 11 minutes or less.
The film's genre must be Comedy
PG-13 to light R NO nudity, our audience is general/all ages
Submission deadline for the full script is March 25th, 2019  
Chosen entries will be announced on March 27th, 2019 
Film specs: H.264 mp4 format, flat aspect ratio 1920×1080 (1.85:1).
Deadline for our receiving your full final film is 11:59pm on May 31st, 2019
You warrant that you are not a director, writer or lead actor directly participating in more than one film being submitted to this OIF Challenge.
An actor may only participate in a LEADING role in a single (1) OIF Challenge Production to be eligible for an award.
An actor's participation in a SUPPORTING role on any production in an OIF Challenge, is limited to two (2) productions to be eligible for an award.  Where the participant is a lead in any such productions, then they are limited to participate in a supporting role in one (1) production.
It is the responsibility of the filmmaker submitting their entry to ensure their crew and talent are aware of any guidelines pertaining to their participation in this Challenge.
At the beginning of the timeline, immediately following the ratings board (see samples), the film should contain a white matte with, this graphic overlaid (click on image, then right-click on larger image to "save-as"), identifying the film as part of an OIF Challenge Entry.  The two  boards, ratings board and the OIF Challenge Identification board should be shown for 2 to 3 seconds each. The display of these required graphics are not considered part of the running time limit for the Challenge.
Selected qualifying films will secure a screening spot at the OIF premiere. Your film may NOT be shown elsewhere prior to the set OIF Challenge screening date.  The OIF screening is a PRIVATE film PREMIERE event open to members and their guests ONLY.  This condition assures you are able to satisfy the showing requirement for certain film festivals.
Failure to follow the submission rules and guidelines may disqualify your entry. 
For related links, please visit:  https://oifstudio.com/submissions/
Good luck to all the entrants!
SUBMISSIONS CLOSED