The Heart Challenge
– An official OIF Script-to-Screen Challenge.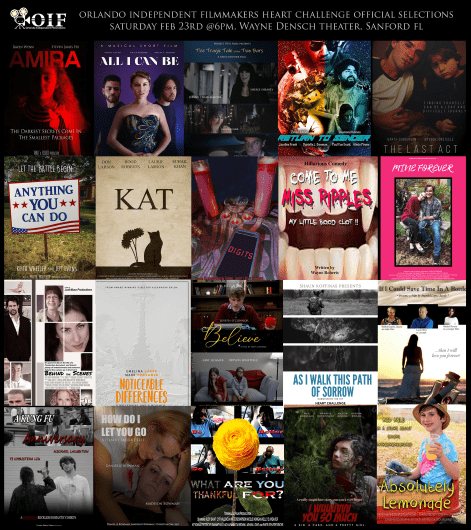 This is an OIF Red-Carpet World Premiere Private Screening Event
Screening:   Saturday, February 23, 2019
This event is open to members, their families and guests.  There will be an Awards Ceremony following the screening.   There will also be an after-party immediately following the Awards Ceremony.  Venue to be announced to the general membership.

Congratulations to the following Official Selections into The Heart Challenge!
Film Screening line-up (listed alphabetically by main film title):
If any of the shorts have a public trailer, the Film title will be linked to it.
Poster

Film

Genre

Filmmaker

Tagline/Synopsis

Absolutely Lemonade

 

Comedy

Joseph O'Connor

A young boy finds a way to solve his financial woes and help his adult patrons "Take the Edge Off"
All I Can Be

Drama

Lexa Davis

A Musical Short Film. 

Two robbers break into the home of an unsuspecting dancer.
Amira

Drama

Concept by Samantha Burton written by Shiminga Forney

Two former assassins are forced to come out of retirement and fulfill one last mission to reunite with their kidnapped daughter. 

Anything You Can Do

Comedy

Laura VonMutius

During election season, an elderly man tries to outdo his neighbor.

 
As I Walk This Path Of Sorrow

Drama

Shaun Koffinas

Approximately 20% of veteran soldiers in America suffer from PTSD after they return from overseas. This is just one short interpretation that any one person may being going through. 

Behind the Scenes

Comedy

Just Muse Production

 It's just one day in the life of a Production Assistant. Her personal family drama of parentage and romance comically plays out amongst the crew behind the scenes on the set of a film production.

Believe

Drama

 Tzvia Lorusso

 A scrappy writer on a verge of eviction, struggles finishing a story for a cash price. 

Come to me Miss Ripples

Comedy

Wayne Thomas

A very low budget movie being made about Count Dracula and the love of his life Mildred Directed by an A Lister Hollywood Director who has a temper problem.

Digits
Thriller
Gary Kennedy

An evening takes a grizzly turn after a couple gets robbed on a first date

How do I let you go

Drama

Maria Celli

A godmother tell her story of her pain, after her god-daughters failed suicide attempt.

If I could Save Time in a Bottle


Drama

Maribel Lopez Jazylo

A 55 year old woman is warped to her past by a bottle that her love of her life gave her on Christmas Eve




I WUUUUUUVVV YOU SO MUCH

Comedy

Cecil Battiste

A geeky teenager wants to give away a Valentine's Day card to the girl he likes but first must stop listening to his trouble making friends.

 
Kat

Drama

Paisley Greer

An elderly man with dementia struggles to cope over the loss of his wife, Katherine, and begins a relationship with his cat. 

A Kung Fu Anniversary


Comedy

Matthew Burgess

When their anniversary is threatened by crime ring, a couple must battle to make their dinner reservation

The Last Act

Drama

Zainab F. Raza

 An orphan must find the courage to love himself before committing to his hopes and dreams, but it won't be an easy journey.

Mine Forever

Horror

Ron Baker 

 A young couple's Valentine's Day dinner takes a turn down a dark path leading to unforeseen consequences. 
Noticeable Differences

Comedy

Alexandra Balda

Once, before time, there was only pure and unconditional love. This is the story of Phillips, a successful "Boomer" and Vivian, a stunning "Millennial". But don't judge a book by its cover. Age makes no difference when love is real.

Return to Sender

Comedy

Joel Otero

 A space station package clerk is forced to train his new replacement. What could go wrong?

The Tragic Tale of Two Bars

Drama

David Kashner

On the one year anniversary of meeting, a couple retrace their footsteps until an encounter with a palm reader ends in tragedy.

What Are You Thankful For

Drama

Kelly Weaver

A love story about a man losing his wife to cancer and his struggling to find love again.