OIF Chaos Challenge - 2021

Welcome to the Official Page for the 17th OIF Script-To-Screen Challenge.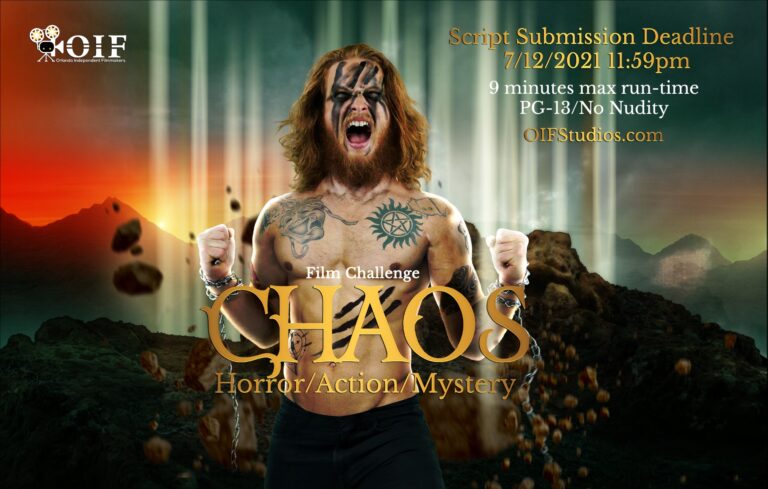 Official Selection:
Action
Game Night
Trent
Duncan
An ordinary game night turns deadly for three players when psycho killers from the game come alive with murderous intentions.
Crimson Jade
Samantha
Burton
Be Wary of your Faction..
GOTHA
Joseph
O'Connor
In a futuristic fascist state, 5 imprisoned children try to escape their work camp and its brutality.
Escape
Jill
Minton
In a post apocalyptic world, two sisters attempt an escape at freedom.
The Ancient Cycle
Zachary
Tuttle
In the dawn of mankind, one woman seeks revenge on the one who killed her family.
Itchdoo: Finding Calm
Rex
Seaton
ICHDOO: FINDING CALM.
An ancient cursed land forces a boy to learn the difficulties of his true destiny much earlier than anyone would have ever expected putting the ones he loves most at risk.
"NightWynd"
KEN
MONTANO
She has made a career out of helping criminals make fast getaways, but this time the cops are not the only ones chasing her.
Soul Bladers
Joseph
Marino
SOUL BLADERS
Two crime fighting bounty hunters prepare for the most chaotic night of the year…Mischief Night
Tallow: Checking In
Charles
Rodriguez
TALLOW: CHECKING IN
A couple caught in the midst of a detective thwarting a criminal enterprise finds that some people are capable of more than they know.
"The Challenge"
Spence
Jordan
In order to save his family, a man must survive in the woods, and as he suspects, he's not alone
Horror
PRECIOUS
Kevin James
Bond
The cocky and arrogant billionaire of a multinational corporation cannot possibly foresee what horrors are about befall him.
The Red Clock
Alexandra
Balda
A creative young woman works to unlock the chains in her mind from the trauma of her past to find her way back to reality before she is destroyed.
Twinsies
Gary
Kennedy
A serial killer who targets a certain aesthetic in women has found his next victim.
Darkest Days
Michael
Speigner
A high-class Journalist and a teen runaway girl cross paths with Bootleggers and get lost in the woods while being pursued by something supernatural.
Dying Light
Jacob
Massaro
A young woman must use her wits to survive the night against a supernatural serial killer.
Spiral
Keara
Mix
Liam's struggles with depression make him a target for a dangerous entity. Will he be able to escape his own downward spiral or will he be consumed?
D.E.A.D. Force
Joe
Boi
On a rescue exorcism gone awry, D.E.A.D. Force encounter a Wendigo: a shape-shifting, atmospheric controlling demon.
GROUND STATION
Justin
Rios
GROUND STATION. A group of engineers & Scientists are in the midst of working in a dish ground station when suddenly the power goes out. One by one the personal goes missing.
Don't Look In the Dark
J.P.
Smith
A man recounts the details of a horrific photo shoot.
The Reckoning – The Dating Chronicles Ep 1
David
Kashner
After a somewhat successful first date a girl must deal with her creepy ride share driver.
ASK
Erik
Helsen
A grieving father approaches an underworld boss for revenge. But does he understand what is at stake?
Crushed
Gregory
Mohn
A man is desperately trying to save his relationship from ending as an evil presence stalks them.
Love, Lex
Madison
Bowman
Well-organized, straight A student, Lex Franklin, journals about her daily life and meticulous plans, but what if she steps out of line?
The Darkness Lives
Megan/Marc
Baillie/Lucia
A young woman is tortured by a dark presence in her dreams.
The Unwanted Visitor
Nattalia
Ortiz
A girl's anxiety manifests into her reality, struggling to escape the evil that is herself.
Bring Me A Dream
Ashlyn
McCain
Bring Me A Dream. Annabel suffers from night terrors and in her efforts to try and end them gets trapped, she loses the ability to tell reality from the dream wolrd.
The Mark
Louie
Castillo
After undergoing a surgical procedure, a man is forced to stay
in his home as his neighborhood is patrolled by the government.
The Handler
Kelly
Weaver
Bullied and abused, teen girl seeks help from a mysterious being called The Handler.
Izabella's Love
Florentina
Kleiner
A young teenager escapes persecution only to be faced with a worse future. She must become immortal in order to live.
Hide and Sought
Bruce
Wood
A teenage girl babysitting four kids drives them to an empty park to play Hide and Seek. As night falls, she discovers they've lost the car key and decides the best course of action is to have the kids lock themselves in the car while she walks back to get the spare key. As she nears the house a man with ill-intentions pulls up alongside her and quickly deduces the following: she's alone, she's the babysitter and she doesn't have her cell phone.
Nightlight
Marcelo
Carvalho
When a boy afraid of the dark is frightened by a ghost in his room during a thunderstorm, he must learn about courage and acceptance.
Ramona
Anton
Church
A mother is separated from her daughter and becomes determined to find her.
Late Pickup
Samuel
Groves
When Christy's mother fails to pick her up after her late shift, she enlists the help of a friend to investigate the situation.
Demony vs Khloe
Krystal
Derico
Demony vs Khloe. The family goes on a trip to Africa, but daughter gets kidnapped by an African Tribe and returns back home with the soul of a demon.
COVID, MAMA
Audra
Torres
Mama races against the clock to save her organization from going under while balancing childcare during COVID lockdown. Can she also manage to keep her sanity?
Homebody
Andrew
Paulsen
A traumatized girl fears the worst on Halloween after her security cameras record a familiar figure.
PAPA
Diego
Vera
A mother attempts to flee the grips of an abusive husband with her daughter.
Beast Hunter
Joshua
De La Vega
BEAST HUNTER. A simple walk home becomes a lot more when one young man finds himself hunting for an electronic beast, only to become the hunted.
When The Devil Stands Next To You
Michael
Lamberti
While camping, a group of friends are being possessed by a demon and hunts them down. Who can you trust when the devil stands next to you?
Doubloon
Marc
Shahboz
Two treasure hunters follow their partner deep into the earth looking for both her and a long lost fortune.
The Hallowed and The Hunted
Kimbria
Young
A former priest tries to leave his past behind him until a revenge seeking demon has other plans.
The Cure
Hollie
Binette
Five strangers try to piece together the events leading up to their abduction
ISOLATED
Leah
Breaux
The quiet and timid Dan, haunted by the loss of his fiance, is forced to face his trauma after being entranced by a mysterious video game.
Storage
Nicole
Bird
When a grieving young woman encounters a malignant spirit imprisoned to an antique chair among the items kept by her, now-deceased, hoarder mother in a storage unit, she must fight for her life before she's imprisoned, as well.
Mystery
In the Heat of the Night
Paul
Usungu
A woman and her publicist become prime suspects when her wealthy husband is found dead in his office.
Sticky Fingers
Robin
Hofmann
All of them may have sticky hands, but only one of them has Sticky Fingers.
Weekend of Recompense
Violetta
Licari

Three notorious serial killers are invited to the Estate of the infamous H. Lecter, by Epstein, and get far more than they expect.

Writers note: This is a re-submit with a scene change

Mistranslation
Emilio
Roman
Two detectives try to interrogate a suspect without a certified interpreter.
Prey
Arlene
Lagos
Nobody goes home alone.
A New Daylight
Wes
Imlay
Two government agents with mismatched personalities have to stop a bio weapon from being unleashed.
what the eyes cant see
Angelina
zagonenko
Clara is plunged with recurring dreams that she can't decipher. Ignoring them comes consequences.
Cicada
Freddie
Jarrett
Nothing is every really perfect, except the reviews for this 5-star secluded getaway under the stars.
Voices of the Dead
Petra
Tressler
A newly purchased bed and breakfast becomes the site for evil and paranormal activity leading to the solving of a cold case.
Reflect
Brandon
Peebles
Two distant friends meet again only to find that one of them may not be who they claim to be.
Masquerade: Coyote
Danny
Navarro
Two men hit a snafu at a gas station in Texas delivering a mysterious package to their boss on the west coast.
Murder on the Mind
Richard
Carrillo
Patrick struggles with visions of violence and murder. He seeks help from a psychiatrist, but as their meeting goes on he continues to lose his grip on what is real and what is in his head.
"Welcome to Magenta"
Manny
Plaza-Fernandez
A families seemingly normal daily routine controlled by an evil mega-corporation is interrupted by an unknown resistance.
Wide Asleep
Mischa
Bubnash
A man who struggles with sleepwalking discovers a frighteningly unique skill that is only accessible while he is asleep.
Dude, Where's My Car
Kadeem
Briddell
A young man finds himself searching for his car as he is followed and harassed by a stranger in the parking lot.
My Flame
Chelsea
Nunez
After the death of his wife, a wealthy man suffering from dementia, confides in his care taker about his marriage. But as the care taker begins to piece together the man's story, they quickly unravel the decades, or even centuries long mystery that his wife had tried to keep hidden.
Cold Cuts
Zach
Cronin-Hurley
When Sam's lunch goes missing one too many times, they must track down the company fridge thief.
I'm leaving her
Fernando
Tosetti
A deranged couple's long-awaited heist to steal an unknown fortune takes a turn for the worst.
Eyes Tell All
Zach
Moore
A Mystery/Horror about a visually impaired young man that experiences something more than just sight.
Rule #1
H.
Marie
RULE #1. Two friends taking an improv class at their college find that what they perform in class starts to happen in real life. Facing a disastrous reality, they suspect that their professor may be involved in dark magic.
Soliger
Robert
Miller
SOLIGER. A lawman is searching for missing girls, including his own daughter, unaware the answer may be closer than he realizes.
OIF CHAOS FILM CHALLENGE
Chaos means to liberate against the same old stay-in-line chains that hold back creativity.   Go crazy and chaotic with your ideas!  Bring something totally new to the screen.  Surprise everyone. Aiming for Best Thrilling Screening Night!

Final film may be up to nine minutes long, including credits.
Avoid "fluff" that may disenchant the audience and use the action for greater engagement.
Horror – We want to feel chills and jump out of our seats.  Horror brings out our fears and innermost instincts.  These are strong emotions and perfect for a film's goal to evoke these.

Action – Courage, bravery, vindication, justice.  Show us how a quick-moving film can capture our attention and have us hold our breaths as your story is told.

Mystery – Murder mystery? Sleuth? Whodunit? The case of….?  Provoke our minds and make us guess the outcome, but oh no!, The twist! The unexpected ending!  Mystery requires you to weave a story with intricacies that entertain and enthrall us.
PLEASE NOTE:
Filming cannot start prior to July 15 where the script selection is scheduled be announced. (Any prior filming will disqualify the entry) We all start at the same time.
We are looking for PG-13, No Nudity – general audience fitting scripts.
As most saw, we bring lots of people to watch the films and they are all ages. In order to give them enjoyable night, we are going to be a bit more selective with the scripts. If your script contains too much gore, too much violence, too much profanity… it may not be selected or screened.
Lets put on a show everyone can enjoy!
Link to submission page will be posted closer to the deadline.
– Award Categories
Best Picture, Best Actor, Best Actress, Best Supporting Actor, Best Supporting Actress, Best Music, Best Director, Best Cinematographer, Best Editor, Best Original Story, Best Sound, Best Set Design, Best Hair/MUA, Best VFX, Best Wardrobe
Certificate Awards:  Honorable Mentions, Best of Genre. 
Submit an engaging original. Include a memorable story with scenes and characters to thrill the audience at the premiere.
– An official OIF Script-to-Screen Challenge.
PLEASE READ ALL GUIDELINES. Be sure to check the film submission guidelines, which are incorporated herein by reference.
Submission deadline for scripts: July 12, 2021 @ 11:59pm
Complete film must be submitted by 

End of Day: 

October 15, 2021 @11:59pm

Please practice safe filming.  No real arms to be used on ANY set.

Choose one of the following genres: Horror, Action or Mystery. Sub genres are welcome, such as comedy.
Keep it clean, max rating of  PG-13.  Limit cursing, No nudity, minimal the gore and blood.  Limited profanity allowed where useful to the story line.  We normally have a general audience in the theater, keep it so the whole family can enjoy the screening.
Keep your script tight and engaging.
NO copyrighted music or stock footage
NO Fan films, make it original please.
Maximum total film run-time (including credits) is 9 minutes.  Required Slates do not count towards time limit.
If your script was selected you have a secured screening spot at the event and your cast and crew are eligible for awards as long as the final film qualifies and is submitted by the deadline.
Films not received by the deadline will not be eligible for awards and may not be screened.
If your script is selected you are expected to post updates to the OIF group along with these lead tags:
#OIF #oifchallenge 
Your film may NOT be shown elsewhere prior to the OIF Challenge screening date. 
Standard Terms and Conditions apply and will be posted on the submission form.
Recap of some rules meant to provide more opportunities and fairer chance at the awards ceremony:
Same actor can only be in a total of 3 films as a lead or supporting lead role with a max of 2 leads roles.   Undertaking roles as an extra is excluded from the count.
Director and/or writer is limited to 1 film submission per Challenge.
Please read the full guidelines HERE
Tips
REWRITE – leave the script for a couple of days then come back to read it with a fresh mind, you have time, don't rush or send the first draft.
GET FEEDBACK  – Let someone else advise if it made sense to them. We have a poll with 50+ people who are willing to give that feedback, reach out and/or consider participating in the pre-challenge table read workshop. (will be posted soon)
Get to the point fast, answer the question "what are we following here" as soon as you can so your script has a good pace, keep the audience engaged.
Please make sure you read the guidelines above. Use the form below to submit your script.
Submission are closed.
Scripts selection announcement: July 15, 2021. @8-9PM