OIF ESCAPE Challenge - 2021

Script Selection Announcements
| | | |
| --- | --- | --- |
| Syd | Latimore | ATOMIC |
| Zachary | Tuttle | The Stiletto's Kiss |
| Keara | Mix | Soul Sword |
| Louie | Castillo | THE LAST OF ITS KIND |
| Gregory | Mohn | After the Credits Roll |
| Righley | Engelhardt | The Not So Secret Life of Teenagers |
| Matt | Scoville | Time Change Diner |
| Candido | Soto III | Ax Soup |
| Emilio | Roman | Old Cuban |
| Jill | Minton | The Girl With the Flowers |
| Dale | Metz | To Catch a Faerie |
| John | Silver | Porch Pirate |
| Noah | Camenker | A Good Home |
| Florentina | Kleiner | No ID |
| Jeffery | Herman | The Ranger |
| Juan | Pantoja | The Black glove Murders |
| Chuck | Fusca | Garage Sale |
| Petra | Tressler | Always Believe |
| Gage | Lynn | The Trials and Tribulations of Meeting |
| David | Kashner | Killing Don Larson |
| Marc | Lucia | Amor Regem |
| Angeliz | Bruno | Covington |
| Samantha Burton | Brooke Fauver | Sól and Máni |
| Rex | Seaton | Throne of God |
| Joe | Boi | Raveena's Revenge |
| Arlene | Lagos | Table Dance |
| Kelly | Weaver | Trials and Tribulations |
| Norma Jean | Lipert | Date Night |
| Justin | Rios | The Man Remembered As Toby |
| Bethany | Brandt | So, I Guess I'm a Superhero |
| Angelina | Zagonenko | The perfect stranger |
| Nattalia | Ortiz | Lunar Tides |
| Brandon | Cortes | The Future's Love Letter To The Past |
| Ashlyn | McCain | Timepiece |
| Lucas | Piety | Littering Ends Lives |
| Lorenzo | Simpson | RING |
| Amy | Kole | No Horror Movie |
| Jacob | Massaro | Thee Guilty! |
| Wes | Imlay | Henry Tucker's Big Adventure |
| Cole | Durhamyou | A Look In The Mirror |
| Jay | Bogdanowitsch | Family Traditions |
| Davidson | Pereira | Meet Me in the Middle |
| Erik | Helsen | Operation Ten From Deep Space |
| Kevin James | Bond | Eldorado |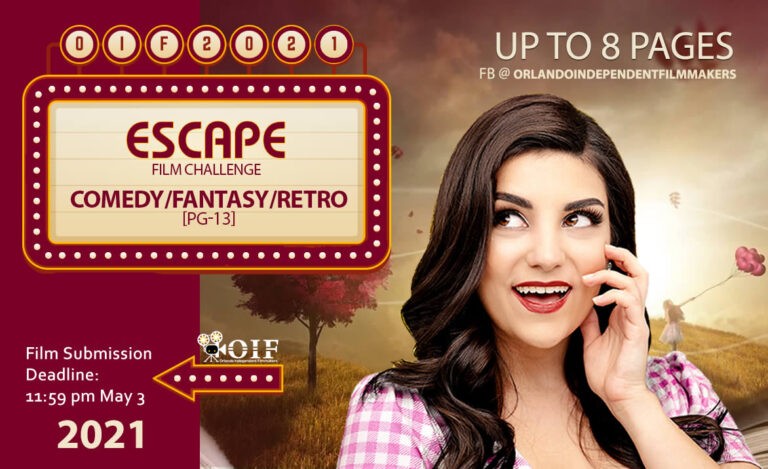 OIF ESCAPE FILM CHALLENGE
Bring us to another era, another reality, or just make us laugh and forget our worries!
"Retro", Fantasy or Comedy are the category themes for this Challenge.

In stepping it up this round, we're limiting the film run-times to eight minutes. For some newer members in the group this may seem a more challenging exercise, but it forces filmmakers and writers to focus more on the "meat" of the story. Avoid "fluff" that may disenchant the audience and use the action for greater engagement.

Retro – Bring us back to another time, where we escape the present; with story, wardrobe, era props, cinematography, etc.
Fantasy – Bring us to another realm, where we escape this reality; with story, wardrobe, special effects, new surroundings, cinematography, etc.
Comedy – Bring us to a mindset where we escape our heavy thoughts and lift our spirits with laughter.
Link to submission page will be posted closer to the deadline.
– Award Categories
Best Picture, Best Actor, Best Actress, Best Supporting Actor, Best Supporting Actress, Best Music, Best Director, Best Cinematographer, Best Editor, Best Original Story, Best Sound, Best Set Design, Best Hair/MUA.
Certificate Awards: Challenge specific, Audience Awards, Honorable Mentions, Special F/X, Best Short for each City.
Submit an engaging original. Include a memorable story with scenes and characters to thrill the audience at the premiere.
– An official OIF Script-to-Screen Challenge.
PLEASE READ ALL GUIDELINES.
Submission deadline for scripts: February 20, 2021 
Complete film must be submitted by May 3rd 2021 @ 11:59PM

Please practice safe filming.  We recommend all cast and crew take a FREE certificate course here:  

https://www.easy-lms.com/safe-sets-covid-19-level-a-english/course-50731
Choose one of the following genres: "Retro" (Era/Period), Fantasy or Comedy.  
Keep it clean, max rating of  PG-13.  Limit cursing, No nudity, gore and blood are okay.  Limited profanity allowed where useful for the story line. 
Keep maximum script page count to ~8 pages 
Maximum total film run-time (including credits but NOT required slates) is 8 minutes.
If your script was selected you have a secured screening spot at the event and your cast and crew are eligible for awards as long as the final film qualifies and is submitted by the deadline.
Films not received by the deadline will not be eligible.
If your script is selected you are expected to post updates to the OIF group using these tags:
#yourproductionname #OIF #oifchallenge 
Your film may NOT be shown elsewhere prior to the OIF Challenge screening date. 
Standard Terms and Conditions apply and will be posted on the submission form.
Recap of some rules meant to provide more opportunities and fairer chance at the awards ceremony:
Same actor can only be in a total of 3 films as a lead or supporting lead role with a max of 2 leads,  excluding extra roles.
Director and/or writer is limited to 1 film submission per Challenge.
Here is a link to the full guidelines: CLICK HERE
Tips
REWRITE – leave the script for a couple of days then come back to read it with a fresh mind, you have time, don't rush or send the first draft.
GET FEEDBACK  – Let someone else advise if it made sense to them. We have a poll with 50+ people who are willing to give that feedback, reach out and/or consider participating in the pre-challenge table read workshop. (will be posted soon)
Get to the point fast, answer the question "what are we following here" as soon as you can so your script has a good pace, keep the audience engagedprecautions
Welcome to the second OIF Florida Inter-City Short Film Challenge, hosted by the Orlando Independent Filmmakers Group.
Submit your complete OIF Escape film below.