OIF PHONE Challenge - 2020
WINNERS
Best Production Design – Fruit Cake – Violetta Anna licari
Best Original Music – The Great Story – Ron Potter
Best Editor – Uploaded – Robert Dodrill
Best Cinematography – 3 Liters – Dale Metz
Best Lead Actor – 3 Liters – Josh Russell
Best Lead Actress – NEVERMORE – Shannon Scott
Best Original Story – The Great Story – Joseph O'Connor
Honorable Mention:
Dear Santa! – Pheobe Sawyer

Survivor's Guilt  –

Mike Rusnack
Best Picture Nominees:
NEVERMORE

The Great Story

Fruit Cake

Dear Santa!

3 Liters
Best Picture Winner: 3 Liters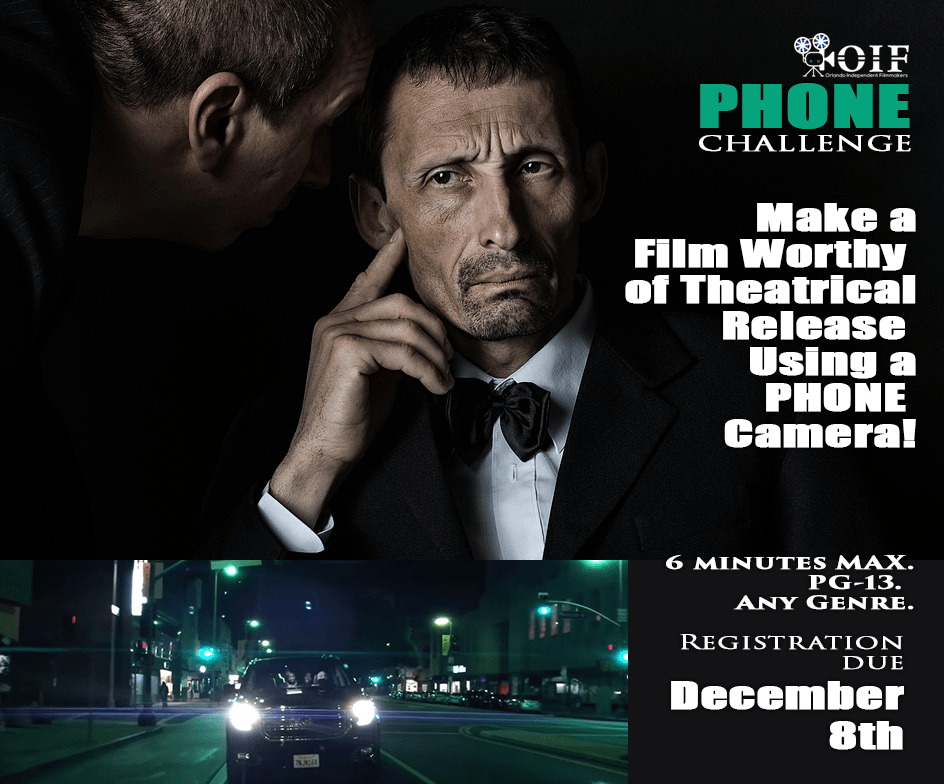 PHONE Challenge Nominees:
Best Production Design
Fruit Cake – Violetta Anna licari
The Great Story – Joseph O'Connor
3 Liters – Dale Metz
Best Original Music
They See You – Kathleen Enriquez
On the sidewalk – Cameron Coelho
The Great Story – Ron Potter
Uploaded – Robert Dodrill
Best Cinematography
Fruit Cake – Graham Zielinski
Uploaded – Robert Dodrill
NEVERMORE – Robert Massetti
3 Liters – Dale Metz
Escape – Paul Usungu
They See You – Gary Kennedy
Dear Santa! – Paul Usungu
Best Lead Actor
On the Sidewalk – Gage Lynn
Survivor's Gilt – Mike Rusnack
One Bullet – Freddie Jarrett
Escape – Martigan Delano
3 Liters – Josh Russell
Best Lead Actress
Dear Santa! – Phoebe Sawyer
Fruit Cake – Vesta Millard
The Great Story – Abby Hosmer
One Bullet – Danielle J. Bowman
Escape – Roxy Eustache
3 Liters – Alyssa Commons
NEVERMORE – Shannon Scott
Best Original Story
NEVERMORE – Robert Massetti
The Great Story -Joseph O'Connor
Fruit Cake – Violetta Anna licari
The Challenge: Make a Film Worthy of Theatrical Release Using a PHONE Camera!

Some were able to win an Oscar filming on a phone… can you?
Objective: Focus on filmmaking concepts including script development, casting, directing, cinematography, editing, audio, sound design, and music to create a well structured, entertaining and Theater Release Worthy film using a phone.
Judging Criteria:
40%  Story, script, acting, entertainment value.
30%  Film technical merit (excluding cinematography)  audio, editing, sound design, score
30%  Cinematography  (composition, lighting, exposure, cinematic camera moves)
– Prizes
Crystal Awards: Best Picture, Best Actor, Best Actress
Certificate Awards: Best Set Design, Best Cinematography, Best Editor, Best Music, Audience Award, Honorable Mentions.

Top 3 films will be automatically an official selection at the MIFF 2020. http://www.melbournefilmfest.com/

Best Picture will be screened and compete in best of 2020 at the OIF year-end Gala
– An official OIF phone Challenge. PLEASE READ ALL GUIDELINES.
No selection process, open to everyone!
$10.00 early registration (until November 15th), $15.00 regular registration fee to enter.
Last day to register; December 8th
Films Due February 8, 2019
ANY GENRE
Make it family-watchable, PG-13, limit F words to 2-3, No nudity, gore and blood are okay, make a use of profanity in good taste.
Maximum total film run-time is 6 minutes. Including Everything.
All footage must be captured by a cell phone. (exception) up to 5 percent of film may include footage from a specialty camera such as a drone camera, underwater camera, etc.
Multiple cell phones may be used but shall be individually listed in the credits under "camera equipment used".
You must submit 10 behind the scene still images showcasing how you shot with your cell phone.

The films that are deemed by the judges as "Ready for Theater" will be screened at a Red Carpet event and will compete for limited awards. The rest will go online and will compete for certificate awards

If you registered for the challenge you are expected to post updates in the OIF group with the tags #YOURFILMNAME #PhoneChallenge #OIF
Your film may NOT be shown elsewhere prior to the OIF Challenge screening/Online Release date. 
No limit on how many films cast/crew can participate in.
Filming cannot start before the challenge's kick-off.
MANDATORY PROP:  Display the letters "OIF" together in the film, it can be a serial number oif-09766, scribble on a piece of paper, part of a book cover, etc'.
OIF PHONE Challenge Participants!
Joseph O'Connor – Game Changer
Arlene Lagos – Queen of Battle
Dale C Metz – 3 liters
Robert Massetti – Lord Infamous Scorpion
J.P. Smith – Queen of Swords
David Kashner – Chaos
Bryan Johnson – The Assassin
Cindy Karafilis – Incredible Four
Gage Lynn – Lord of War
Violetta Licari – Queen of Spades
Florentina Kleiner – Queen of Haunts
Michael Richartz – The Phoenix Fire
Nikki Buttery – Queen of Fire
Paul Usungu – Ace of Aces
Robert Dodrill – Symon Frost
Stephanie Kirves – Queen Mastermind
Swann Christopher (T2TC) – Fire Starters
Sarah Voghn Perry – Fierce Leader
Tzvia Lorusso – Queen of Hearts
Zachary Tuttle – Triple Threat
Matthew Burgess – Demon Slayer
Reinaldo Angola-Hernandez – Majestic Crow
Luis Castillo – Master Fighter
Wes Imlay – The Joker
OIF, Orlando Independent Filmmakers is a community-based organization.
We have regular filmmaking challenges throughout the year using our Facebook group page, to support our collective endeavors.
Our challenges begin with screenwriting and go all the way to theatrical presentations. Our last event was held recently at AMC Theaters in Altamonte Springs with about 400 attendees.
In order to accommodate our growing community and provide greater opportunities to filmmakers we are offering this Phone challenge. The challenge has slightly different rules than our previous challenges.
The full support of our community, through Facebook, is still available to each filmmaker. You can post for cast and crew right on our page.
It is a good idea to take on a cast or crew position in an OIF production to build your network and find like-minded individuals to support your own film endeavors. We have found that this is simply the best way to achieve your goals and it is the reason OIF has grown so quickly. We are a Community.