Here's bidding farewell to 2023 and welcoming the adventures, opportunities, and joys that await us in 2024!
Cheers to a new chapter filled with creativity, growth, and unforgettable moments.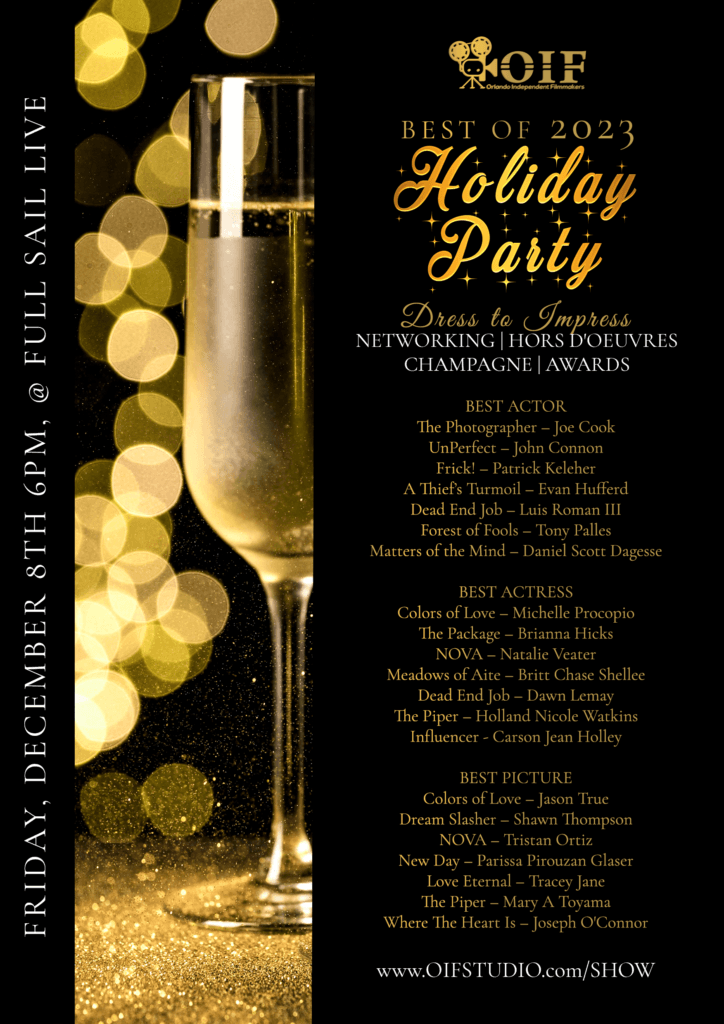 Lights, Camera, Celebration! 
Join in the most anticipated event of the year, where we gather for an evening of glamour, networking, and cinematic excellence.
AGENDA
6-7:30pm – Reception: Celebrate and rub shoulders with filmmakers, actors, and industry professionals, creating connections that could shape the future of your career. Indulge in the effervescence of success with complimentary champagne and Hor d'oeuvres toasting to the artistry that defines our film community.
7:30-9:00pm – Greetings & Film Showcase: Be captivated by the brilliance of seven award-winning short films, each a testament to the creativity and innovation thriving in the heart of our film community.
9:00pm-9:30pm – Awards Ceremony: Witness the crowning moments as we honor the Best Actor, Best Actress, and the prestigious Best Picture of 2023. It's a celebration of talent, dedication, and the magic that unfolds on the silver screen.
9:30pm-10:30pm – More Networking!
11PM – After Party at the Ale House next door
RSVP Today:
Seize your Golden Ticket to this cinematic soirée. RSVP now for an evening that promises to be the highlight of your year!
Bring your holiday spirit, and see you on the red carpet!
FRIDAY, DECEMBER 8TH, 6PM AT FULL SAIL LIVE VENUE

141 University Park Dr, Winter Park, FL 32792