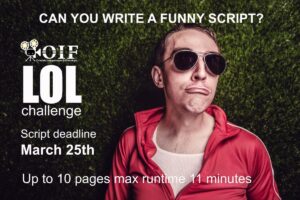 LOL Challenge Official Selection: * Remember the main guidelines;
Rating:  PG-13 to light R, general audience. 
You MUST post in the OIF group at least one casting call for one character in your film, give actors a chance to audition for you.
Please add #OIF #LOLchallenge to challenge related posts.
Complete film deadline is May 31st. 
Full guidelines: https://oifstudio.com/submissions/film-submission/,  https://oifstudio.com/film-submission-guidelines/
This officially kicks off the start of LOL challenge, feel free to post in the group anything you need.  In the next few day we will invite you guys into a secret group where we discuss challenge internal news.
Awards for this challenge: 
13 Crystal awards:  Best Supporting Actress, Best Supporting Actor, Best Actor, Best Actress, Best Hair/MUA, Best Sound, Best Original Music. Best Cinematography, Best Editing, Best Production Design, Best Director, Best Original Story, Best Picture
Audience Award (Certificate – one per block)
Good luck everyone!
David Mills – Netflix and Kill – An obsession over TV shows blurs the line of fantasy and reality when Netflix comes to life.
Adam Ray – The Cat Did it – A woman discovers that her pampered cat is aggressive when it doesn't get it's way.
Lexa Davis – Netvos – After a computer game villain comes to life, one desperate teenager will stop at nothing to free his laptop from the villain's undying presence and sardonic wit.
Dale Metz – S.N.A.F.U. – While investigating a suspicious situation, a detective and his partner find themselves engaged in a deal they were not prepared for.
Josiah Sampson – Hive Mind – During a packed lunch rush, an unsuspecting man is presented with the trip of a lifetime.
Frank Burns – Dead Giveaway – Harold passed on to the other side of life, and at his funeral, all of his wives meet for the very first time. 
Ron T. Baker – Wannabes – Two friends who never accomplish anything, set out to prove that they are more than just wannabes.
Zachary Tuttle – Black Diamond and Ivory Fist – The power of Funk Fu The evil White Russian along with the dangerous Viperella are littering the streets with crime, only Ivory Fist
and Black Diamond can take the malicious duo down using the power of Funk Fu.
Lenny Lorusso – House Special Sauce – A  wealthy man wants to be sure of his fiancee's loyalty before marrying.   He visits a Psychic that offers him a sure-fire way to get the truth.
Angeliz Bruno – Operation Blow – A nerd gets invited to the hottest girl in town pool party. What can go wrong with a few uninvited guests?
Paisley Greer – The Entrepreneur – They thought he was just a janitor…
Nathan Bradford – Eerobics – Aerobics champions from the 80s/90s want to bring back the exercise craze to 2019. Only one problem, they are 20 to 30 years older, and stuck in the past.
Robert Dodrill – Frank's Bad Advice – A man enters a store specializing in bad advice and gets exactly what he asks for.
Nilda Ledix  – Our first Family Dinner – A couple's  love is tested when they have to bring their crazy families together for dinner. 
D.T. Bullock  – The Founding of Youth – A half planned bank robbery planned over beer and wine the night before.
David Kashner –  The Decision –A foreign man faces a "big" decision at a convenience store, while two, rowdy store workers, decide on a "smaller" purchase for him.
Robert Miller – Caffeinated Psycho – A disgruntled coffee shop employee finds out that his shy coworker is not as innocent as he thought.
Matt Payne – Boundaries – Brian has to face the frustration we all loathe – bathroom conversations.
Matthew Burgess – Cooking with Chaz – After receiving some devastating news, a YouTube chef struggles to keep his composure.
Joseph O'Connor – This Big! – This Big! has our inquisitive duo. Kid Kyle and Maxwell, meet up with some other lovable characters to find their way through a Saturday without video games.
Axel Aponte – Friends First Date Johnny tries to save his best friend Jimmy from Rachael. What looks to be a setup first date.
Madison Bowman – How To: Be The Perfect Boyfriend – After a string of bad dates, a resourceful teenage girl devises an ingenious plan to teach a boy how to "boyfriend".
Charlston Urbina – Neighborhood Nightwatch – A group of unorganized civilians devoted to stop crime and vandalism prevention within a neighborhood.
Mark Provance – Morning with the Jubluks – An average family in the not so distant future go through their daily morning routine. How times have changed – maybe not.
Joel Otero – Big Fish Little Pond – A small town's local painter is a big fish in a small pond, dreams of being even bigger. The town's shady Mayor offers him the opportunity of a lifetime. 
Dennis Higgins – Turn Around – When a young boy is being bullied, his brother wants to plot revenge, but his mother teaches him to turn it around.
Tzvia Lorusso – Rookie Day (TBD) – Two rookie detectives find themselves in the wrong place at the wrong time.
Swann Christopher – Tank and Tina's First Vacation – Tank and Tina are perfect for each other but like with any relationship, theirs comes with its share of struggles.
Chris Ballinger – The Art of the Deal – Dad has to strike a deal with his daughter to hide his candy eating habit.
Mace Walker – First Love's Melody (a musical) – "Sadie," a 22 year-old hopeless romantic battles her insecurities and quirks in attempt to impress her dinner date, "James."
Brian Mills  – A Moment Before November – A 17 year old girl is obsessed with finding the right guy for her first kiss before her 18th birthday.
Brenda Ingraham – Textual Trouble – When texting hurts: it's a textual conundrum between two professionals.
Petra Tressler – Men A Pause – When 3 women hear their husbands complaining about them being in Menopause they take things in their own hands.You are only as old as you want to be.
Freddie Jarrett – Shit Stew – With the need to share everything on social media, a young man finds himself in a little shit-u-ation.
Roberto Moreno Torres – Don't Blink – The boss of a large corporation that creates a product for fast hair growing encounters a problem of a leak in one of the fabrics in China and on a meeting with the supervisor of it they end up having a fight for sugar for their tea.
Matthew Thomas – Belvoir Drive – When Zach and Seth do community service at the local retirement center, they get a bit more than they bargained for.
James Scott – LOVE OVER GREED – A small indie production team struggles to find funds to pay for festival entry fees comes up with an unethical scheme to generate money.
Kelly Weaver – Delusions Of A Perfect Existance – A man has a break-up with long-time girlfriend and wants to have his memories of her erased so he can go on living his perfect life which isn't so perfect.
Michael Moretti – All in the Way of A Lady Who Played Jane – Odessa, a young starlet on her way to winning multiple best actress awards, clashes with the former star of the role she rebooted.