This year OIF will present the Best Picture Award (For Best Short Film) of 2021 to one of nine films screened in theaters during the year.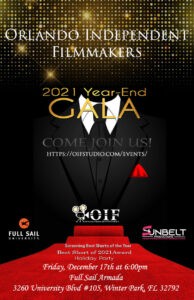 The nine (9) nominees from the three (3) OIF Challenges screened in 2021 are:
Fierce Challenge Genre Winners
Her Ghost in The Fog (Drama)
Jail Bait (Horror)
Betrayed (Sci-fi)
Escape Challenge Genre Winners
Eldorado (Comedy)
The Ranger (Retro)
To Catch A Faerie (Fantasy)
Chaos Challenge Genre Winners
Murder On The Mind (Mystery)
The Red Clock (Horror)
Game Night (Action)
The Year-End/Holiday Gala will be Held at Full Sail University, in the Fortress Building.
The event is hosted by Janice Fisher.
This is a seated event, with Covid-19 precautions in place.  Appetizers, Champagne, Red carpet photos and more are on the Agenda.