OIF RUSH Challenge - 2019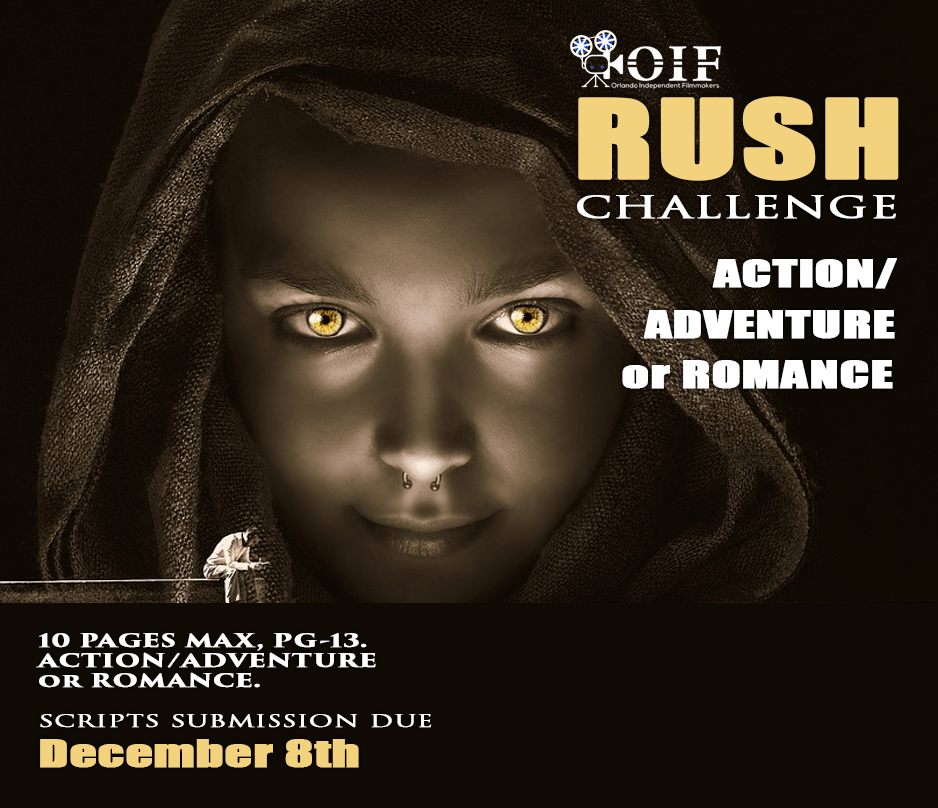 ACTION / ADVENTURE
The Huntress [Action/PG-13] – By Michael Speigner
Break Time [Action/PG-13]  – By Gregory Mohn
The Hero We Get  [Action-Comedy/PG-13] – By Gage Lynn
The Syndicate: Reignite [Action/PG-13]  – By Kelly Weaver
The Monmouth Defector [Action/PG] – By Wes Imlay
The Visionary [Action/PG-13] – By Brandon Rivers
LEGACY [Action/PG-13] – By Brooks Leibee
Resilient [Action/PG] – By Matthew Burgess
Black Diamond and Ivory Fist: The Ho Ho Ho Holiday Funk [Action/PG-13] – By Zachary Tuttle
Surviving Reality [Adventure-Comedy/PG-13] – By Madison Bowman
Amira 2: Retribution [Action/PG] – By Samantha Burton & Shiminga Forney
code: MAGENTA [Adventure-Comedy/PG] – By Alaina Jaye Antrim
A Reckoning [Adventure/PG] – By Dale Metz
The Tale of two Famous Actors [Adventure-Comedy/PG] – By Petra Tressler
Lucas – [Adventure/PG] – By Paul Usungu
Orion – The Hunter [Adventure/PG] – By Mary Ann Sawyer
Breathe [Adventure/PG] – By Joseph O'Connor
Lyber Ride [Adventure/PG] – By Swann Christopher
ROMANCE
Fate Knocking [Romance/PG] – By Arlene Lagos
Escape [Romance/PG] – By Robert Laur
Table Talk [Romance/G] – By Violetta Anna Licari
A Love Game [Romance/PG] – By Lexa Davis
Just My Luck [Romance/PG] – By Righley Engelhardt
Justice [Romance/PG-13] – By Jill Mington
Like a Lady [Romance/PG] – By Zainab Raza
Emotional Pianist [Romance/PG] – By Henrique Franhani
 Forever in my heart [Romance/PG-13] – By Florentina Kleiner
¿A quién quiero mentirle? [Romance-Comedy/PG-13] – By Ibis Enid Rodriguez
TORN [Romance-Comedy/PG-13] – By Eddie Wilson and Honesty Bodiford.
Heart vs. Brain [Romance-Comedy/PG-13] – By Eli Bulger
My Everyday Life [Action-Comedy/PG-13] – By Nazsir Givens
The Odds [Action-Comedy/PG-13] – By Sarah Vaughn & Emerson Perry
The A Game [Romance-Comedy/PG-13] – By Cleo Fox & Ebony Allison
– Prizes
13 Crystal Awards: Best Picture, Best Actor, Best Actress, Best Supporting Actor, Best Supporting Actress, Best Music, Best Director, Best Cinematographer, Best Editor, Best Original Story, Best Sound, Best Set Design, Best Hair/MUA.
Certificate Awards: Audience Awards, Honorable Mentions.

Best Picture will be automatically an official selection at the MIFF 2020.

Best Picture will be screened and compete in best of 2020 at the OIF year-end Gala
– An official OIF Script-to-Screen Challenge. PLEASE READ ALL GUIDELINES.
Looking for engaging original, memorable stories, scenes and characters that would thrill the audience at the premiere and give a good RUSH
Script Submission deadline December 8th
Complete film must be submitted by March 8, 2019
Must be one of the following genre: Action/Adventure or Romance
Make it watchable by a family, PG-13, limit F words to 2-3, NO nudity, gore and blood are okay, make a use of profanity in good taste.
Maximum script page count is ~10 pages (10 minutes)
Maximum total film run-time (including credits but NOT required slates) is 10 minutes.
If your script was selected you have a secured screening spot at the event and your cast and crew are eligible for awards as long as the final film is submitted by the deadline TBA
If your script was selected you are expected to post updates in the OIF group with the tags #YOURFILMNAME #RushChallenge #OIF
Your film may NOT be shown elsewhere prior to the set OIF Challenge screening date. 
Rules to provide more opportunities and a fair chance at the awards ceremony:
Same actor can only be in a total of 3 films as a lead or supporting lead role with a max of 2 leads and excluding extra work.
Director, writer is limited to 1 film in the same challenge.
Here is a link to the full guidelines: CLICK HERE
Tips
REWRITE – leave the script for a couple of days then come back to read it with a fresh mind, you have time, don't rush or send the first draft.
GET FEEDBACK  – Let someone else advise if it made sense to them. We have a poll with 50+ people who are willing to give that feedback, reach out and/or consider participating in the pre-challenge table read workshop. (will be posted soon)
Get to the point fast, answer the question "what are we following here" as soon as you can so your script has a good pace, keep the audience engaged
OIF EDGE Challenge Participants!
Action
The Huntress [Action/PG-13] – By Michael Speigner
Special Agent Mallen, a Playboy, reluctantly accepts an assignment to escort a teenage girl to a safe house, only to find the mission to be more challenging than he thought when he's forced to deal with an angry teenager and a determined assassin.
Amira 2: Retribution [Action/PG] – By Samantha Burton & Shiminga Forney
Two former assassins are forced to cooperate with an FBI agent to catch a multifaceted violent criminal that they've done several assassinations for. But things quickly heat up when he realizes one of them is too close to home.
Break Time [Action/PG-13]  – By Gregory Mohn
A man on the verge of a scientific breakthrough gets a mysterious visitor who tries to stop him.
The Hero We Get  [Action-Comedy/PG-13] – By Gage Lynn
A retired special operative finds himself forced back into action and, suddenly, in the fight of his life.
Temper Peter [Action/PG-13] – By Will Umotong
"After witnessing the death of his little brother, a guy fights to get revenge against a mob boss while keeping his temperature above 99 or he dies".
The Bag [Action/PG-13]  – By David Williams
No one knows what's in it, but everybody wants it, and they do WHATEVER they can…to get it.
RUSH: How It Started [Action-Comedy/PG-13] – By Rex McSeaton
The son of a formerly idolized champion of an underground fighting ring, decides to bring his father's legacy make to make a little extra money to help him and his pregnant girlfriend when he is met with an impossible choice. 
The Syndicate: Reignite [Action/PG-13]  – By Kelly Weaver
In the world of assassins sometimes love is a battlefield. 
Resilient [Action/PG] – By Matthew Burgess
A teen seeks redemption following a car accident, that claimed the life of her older sister.
The Odds [Action-Comedy/PG-13] – By Sarah Vaughn & Emerson Perry
A group of robbers find themselves in an interesting situation when they end up robbing the same location. 
My Everyday Life [Action-Comedy/PG-13] – By Nazsir Givens
A teenage boy who strives to be perfect, embarks on a journey with his 2 friends.
The Monmouth Defector [Action/PG] – By Wes Imlay
A man finds himself kidnapped by an intelligence agent from a Caribbean nation who wishes to defect to the United States.
LEGACY [Action/PG-13] – By Brooks Leibee
widower, on the run with this eight year old son, narrowly escapes local law enforcement with their lives, an age old secret, and a ruthless pursuer on their trail.
The Visionary [Action/PG-13] – By Brandon Rivers
James Spencer, a famous detective known for his special ability is presented with his biggest case yet to save the mayor's from 3 of the cities biggest terrorist. He realizes time is not on his side to find the mayor's where about. Him and his partner David Beucannon will be pushed farther than they ever imagine.
Mary, Bloody, Mary [Action/PG-13] – By Syd Latimore
After years of being incognito, a certified human weapon returns to her hometown to retrieve the ashes of her dead mother but, discovers her time away didn't save her from past enemies.
Nerfed [Action/PG-13] – By Adam Ray
We find out what happens when adult friends refuse to grow up and other just don't understand.
Black Diamond and Ivory Fist: The Ho Ho Ho Holiday Funk [Action/PG-13] – By Zachary Tuttle
The Evil Krampus and his Mistress of Evil Jackie Frost has kidnapped Santa so, it's up to Black Diamond and Ivory Fist to save Santa using the power of Funk Fu.
Adventure
The Jacket [Adventure/PG-13] – By Damien Shane
After purchasing and wearing an old jacket from Goodwill, a young man encounters some intense flashbacks that lead him to an unsolved murder. Now, he, his girlfriend, and best friend are on the hunt for answers.
code: MAGENTA [Adventure-Comedy/PG] – By Alaina Jaye Antrim
Originating with the trials of one woman centuries ago, a group of kids are left clues to a mystery bigger than any of them ever expected.
A Reckoning [Adventure/PG] – By Dale Metz
A group of teenagers befriend a homeless man and discover magic that goes beyond friendship.
Surviving Reality [Adventure-Comedy/PG-13] – By Madison Bowman
When four teens wake up in an unknown land with no recollection of how they got there, they realize that their fate lies in their ability to survive reality. 
Breathe [Adventure/PG] – By Joseph O'Connor
A young boy takes an adventure that no one should ever have to take.
My Movie [Adventure-Comedy/PG-13] – By Brian Furber
An adventurous short film about how a man who lost everything was still able to find his true self.
The Tale of two Famous Actors [Adventure-Comedy/PG] – By Petra Tressler
Two so called famous actors who compete against each other, receive a lesson in the afterlife
Lyber Ride [Adventure/PG] – By Swann Christopher
An uber uptight businessman who is forced to get a lift from a rideshare service ends up getting more than he bargained for.
Lucas – [Adventure/PG] – By Paul Usungu
A Friendship story between Jody and her fish pet Lucas
The Hunter [Adventure/PG] – By Mary Ann Sawyer
Little girl chose a Dare while playing Truth or Dare and what she finds out leads her to  become a hunter.
Paranormal Warp Zone [Adventure-Comedy/PG-13] – By J.P Smith
3 filmmaking buddies rush into capturing their idol on film for a 24HR film challenge and end up having an experience of a lifetime.
Romance
Fate Knocking [Romance/PG] – By Arlene Lagos
When opportunity knocks,  will Betty be ready to open the door to her fate?
TORN [Romance-Comedy/PG-13] – By Eddie Wilson and Honesty Bodiford.
When love's GPS sets your destination to a beautiful blissful marriage. Suddenly, makes a left turn and detours you to a dead end. What do you do? Turn around and remain lost or create your own lane.
Room Service [Romance-Comedy/PG-13] – By Sheree Shearey
An up-and-coming and quirky actress, has a one-on-one love scene rehearsal with her famous co-star, where she crosses the line and jeopardizes her career.
Escape [Romance/PG] – By Robert Laur
Can a couple's boredom survive temptation?
Table Talk [Romance/G] – By Violetta Anna Licari
When three senior ladies, and three senior men, make up their minds to fix what they think needs fixing, a series of coincidences follow around every corner
A Love Game [Romance/PG] – By Lexa Davis
Two enthusiastic anchors give live commentary on a series of simultaneous dates. In this game of love, only one couple will victoriously leave happily together.
The Past & The Present [Romance/G] – By Akirra Quinn
The year of 1970, a massive riot happened outside of Yani's Nightclub. Will this night turn into something good, or something bad?
Just My Luck [Romance/PG] – By Righley Engelhardt
Justice [Romance/PG-13] – By Jill Mington
After her sister nearly dies as the result of a toxic relationship, a young girl seeks justice that spirals out of control.
Like a Lady [Romance/PG] – By Zainab Raza
A young trans woman endures judgement and reduction of validity against her identity as she attempts for new found love.  
Emotional Pianist [Romance/PG] – By Henrique Franhani
A teen expresses her emotions through music and gets to find true love because of that.
 Forever in my heart [Romance/PG-13] – By Florentina Kleiner
When two people in love find themselves broken. 
FINN [Romance/PG] – By LUIS CASTILLO AND KELLI CULBERTSON
A woman receives unexpected gifts after her pet passes away.
Heart vs. Brain [Romance-Comedy/PG-13] – By Eli Bulger
A girl is conflicted by her rational and emotional thoughts while she is on the first date with her crush
¿A quién quiero mentirle? [Romance-Comedy/PG-13] – By Ibis Enid Rodriguez
Eva and Miguel had a relationship that lasted 10 years which ended in disappointment and they meet after 3 years with moments full of emotions and comedy.
The Accent [Romance-Comedy/PG-13] – By Cleo Fox & Ebony Allison
Studious guy seeks love but can never make a love connection, takes a bet from his best pal to try a new approach.