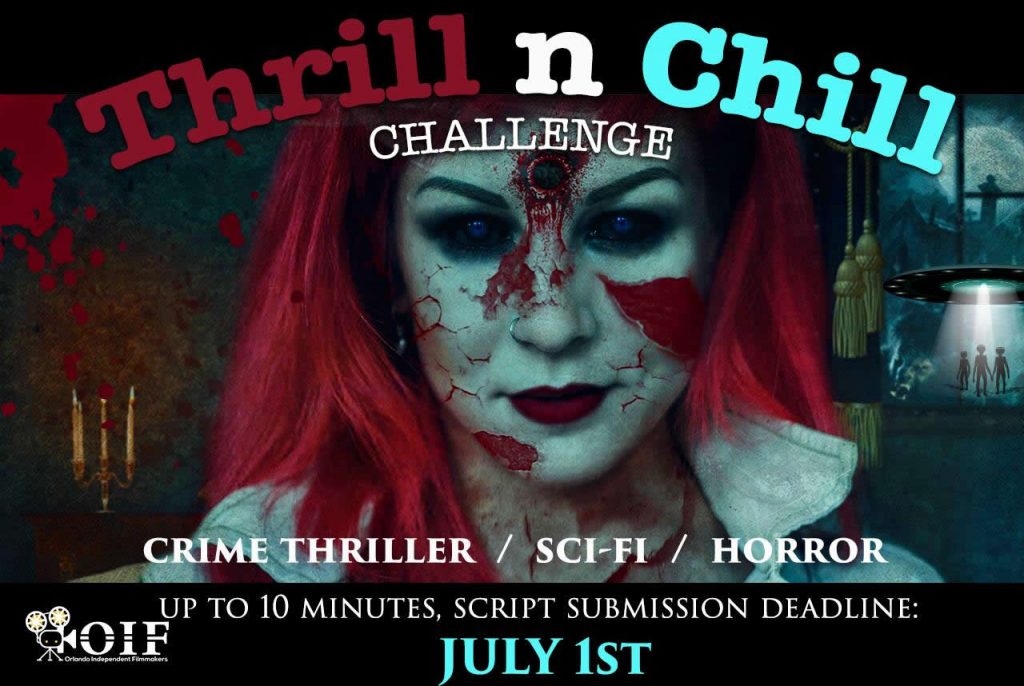 Thrill n Chill selections are here, we can assure you that there are lots of unique interesting stories in the picks. We should be able to fit 24 films considering running length per the submissions.
As a collaborative group, OIF's mission is to connect and support members.  Priority is given to those individuals that participated in the latest challenge, individuals that helped others in past challenges.  A few spots are open to newcomers. If your script was not selected, we encourage you to join an existing production and/or try again the next challenge.
Here is the list of selected scripts in alphabetical order:
[Status Update:  Grey Titles did not make it into the final Challenge stage]
Sci-Fi
AMA – by Samantha Bueckhanon & Zainab Raza – Kashi Must Convince his home's clan to believe in harmony amongst all sorts of nature as he leaves his home to venture on a new path. – Wrapped
Codename: Alexandra – by Kelly Weaver – In a world where most people hate the growing android population one human detective has a new partner. A state of the art android who can adapt to anything. – Wrapped
Galactic Lineage – by Trent Duncan – A lone man is confronted by aliens searching for the key to intergalactic peace. – Wrapped
Genesisters – by Jacoline Frank – Four angels in Heaven try to perfect their pitch, convincing God to include their planet, Earth, in the big plans. – Wrapped
Juvie – by Dale Metz – A drop ship captain discovers the true motivations of a teen delinquent who has been ordered to serve 15 years as a laborer on an asteriod mining vessel. – Wrapped
Moondust – by Robert Dodrill –

A woman inadvertently finds herself as the Moon's last line of defense against an eccentric space capitalist, bent on shrinking down the moon and grinding it into a euphoric powder.

Retro – by Ron Bowjack – When Tommy goes out in the night to check on a mystery light, his life changes forever
Time's Up – by Brian Mills – A man from the future puts all of existence in jeopardy when he uses a time machine to try and stop his younger self from meeting Ms. Wrong.
Time Was – by Noah Camenker – An entitled college student discovers just how toxic some apps can be.
Horror
The Messenger (previously – Do Not Play With Me) – by Paul Usungu – It was a fun baby shower party for Jason and Liz with family and friends until someone oversteps their boundaries. – Wrapped
D.N.A. – by Petra Tressler – Some Answers can be deadly – Wrapped
Hair – by Roberto Agosto – After Nicolas commits his daughter Sofia to a mental institution, the remaining family of three cope with the absence of Sofia while being haunted by the what drove Sofia insane. – Wrapped
I Will Treat You – by Cindy Karafilis – Karma is a bitch. – Wrapped
Long Way Home – by Christina Liu –

In the post-apocalyptic world, a woman that got separated from her sister is trying all she can to get back to her beloved family.

Mushies – by Lenny Lorusso –

Four friends go to a cabin in the woods for a stress-free weekend, but things aren't as relaxing as they had planned.

Obscured Reflection (previously The Mirror) – by Alexandra Balda –

When an avid collector and his wife move into their new home, a demonic being unleashed from The Mirror with the intent to punish people for their past sins. 

Will they leave before it's too late or are they in too deep? – Wrapped
The Last Flame Out – by Angeliz Bruno – Four best friends decide to throw a mini reunion at a lost cabin. They find a game that changes their plans.  – Wrapped
Crime Thriller
Deadly Commission – by Aries Smith – The owner is tired of phone calls from telemarketers. The Owner and Gatekeepers forge together to stop the calls.
Faldo – by Dennis A. Higgins – Faldo endures a hilariously bad day with stoic poise. Also, the is a crime. lol –  – Wrapped
Its Part Of The Game – by Nicholas Ouellette-Perry –

Two agents track down and try and take in a suspected leek in national security.

Mental State – by Luis Castillo –

Two detectives try to find the location of an individual by questioning a mental and deranged man, only to find out a grisly conclusion.

My Name Is Karma – by Matthew Burgess – A woman, Karma Carter, must grapple with the fact her mother's killers are being released from prison, fifteen years after her death. – Wrapped
Psychic Games – by Joshua Osborne –

A confident psychic hopes to convince a skeptical businesswoman that her supernatural gift is genuine.

The Apology – by Wes Imlay –

A man faces the ghosts of his past in hopes of being forgiven.